Ministry of Food Processing Industries (MOFPI) invites applications to engage three Young Professionals (YPs) in the Ministry for attending to specific and time-bound work. Only persons with requisite qualification and experience, as prescribed, would be engaged as Young Professionals. It is mandatory for the applicants to provide the email address. The only means of communication between the candidate(s) and the Ministry shall be by email. The application should be submitted as per Annexure-Il only.
The requisite qualification for applicants and details of the terms and conditions of engagement of YPS are as follows: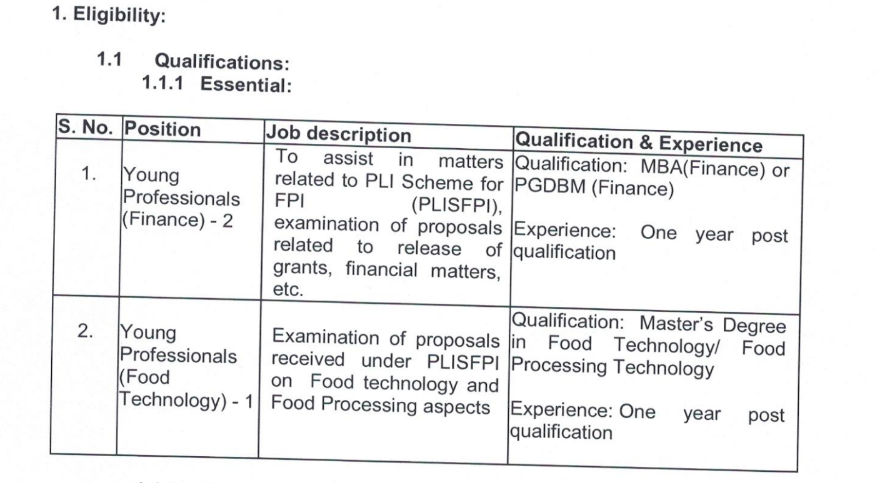 Desirable: Persons with additional qualification in
management or research experience, published papers in reputed journals will be preferred.
Work Experience: Minimum of one year in project management or other areas relevant to the job description.
Other Attributes: Candidates should have good working knowledge of technology-based skills on the computer and ability to work on ICT applications. They should also possess good communication and interpersonal skills.
Age limit: Candidates should be below 35 years of age as on 01.07.2023.
Remuneration: A consolidated amount of ₹60,000 per month. There shall be an annual increase of 5,000/- subject to satisfactory performance on the basis of Annual Performance Report.
TA/DA:
No TA/DA shall be admissible for joining the assignment or on its completion.
No TA/DA shall be payable for attending the interviews/written test.
YPs may be asked to undertake domestic tours for which TA will be allowed for travelling by rail in AC Two-tier. Reimbursement for Hotel accommodation of up to 800 per day; reimbursement of taxi charges of up to 150 per diem for travel within the city and reimbursement of food bills not exceeding 700 per day will be allowed during tour.
Other Allowances: No other facilities such as DA, accommodation, residential phone/ conveyance/ transport, foreign travel, personal staff, medical reimbursement, CGHS etc. would be admissible to the YP.
Tax Deduction at Sources (TDS): TDS as admissible shall be deducted from the monthly remuneration of YPs. A TDS certificate shall be issued by the concerned DDO on demand.
Job Description and Responsibilities: Job entrusted to YPS would require demonstration of proven academic credentials, professional achievements and leadership qualities. They shall be required to provide high quality inputs in areas such as –
a) Cross-checking of the proposals for disbursement of the incentive
b) Preparation of Agenda items for meetings
c) Tracking and disbursal of claims to the Companies
d) Maintaining of proper database related to scheme
e) to assist in conduct of the meeting, preparation of minutes, etc.
f) Assessment of reports received from companies under PLI and maintain records. g) Examination of finance related issues
h) Examination of reports relating to food processing plants of companies.
i) To map the physical and financial progress of the projects sanctioned
Place of Posting: New Delhi
Period of Engagement: Initially for a period of 1 year (can be extended up to 3 years – one year at a time depending on requirement/vacancy within Ministry).
Leave: Leave of 8 days shall be allowed in a year on pro-rata basis. The leaves shall accrue to them on completed month basis calculated from their date of joining on pro-rata basis.
Attendance & Working days:
The working hours of the professionals shall be same as the regular employees working in the Ministry. No extra remuneration shall be allowed for working beyond office hours or on Saturdays/ Sundays/ Gazetted holidays. Compensatory leave in such cases shall be at the discretion of the AS/JS of the division.
The attendance shall be marked in the manner prescribed.
An YP shall not draw any remuneration in case of his/her absence beyond 8 days in a year (Calculated on pro-rata basis).
Service Condition: The YP shall not, except with the previous sanction of Ministry of Food Processing Industries, in the bona fide discharge of his/her duties, publish a book or a compilation of articles or participate in a radio broadcast or representing any private entity in legal or commercial matters or contribute an article or write a letter to any newspaper or periodical, either in his/her own name or anonymously or pseudonymous in the name of any other person, if such book, article, broadcast uses any information that he/she may gather as part of this YP assignment.
Confidentiality and Secrecy:
During the period of assignment with Ministry of Food Processing Industries, the YP would be subject to the provisions of the Indian Official Secret Act, 1923 and will not divulge any information gathered by him/her during the period of his/her assignment, to anyone who is not authorized to know the same.
Selected candidates shall provide integrity certificates from 2 references known to them.
A self-undertaking shall be provided by the candidate to the effect that he/she has no criminal record or criminal case in any court is pending against them.
Termination of Services and requirement of notice:
In case a professional wish to resign from his/her position, he/she shall furnish at least one month's notice period or salary in lieu thereof. Secretary (MoFPI) may waive off the condition for notice period/salary in lieu thereof, in deserving cases.
MoFPI shall have powers to terminate the engagement of professionals at any time without assigning any reason, with the approval of the Secretary (MOFPI).
Absence from duty for a continuous period of 8 days, without any information or any valid reason shall lead to automatic termination of contractual engagement.
Selection Procedure:
All the applications received will be scrutinized. Scrutiny Committee will be headed by Additional Secretary (Administration). The scrutinized/shortlisted applicants will be called for personal interview at Panchsheel Bhawan, New Delhi before a three-member Selection Committee headed by Additional Secretary (Administration), FPI with Joint Secretary (PLI) and Director (JK) will be the members. Direct interview will be held if number of shortlisted candidates remains up to 20 numbers.
If more than 20 candidates are shortlisted by the scrutiny committee, then a written test as well as interview will be held. The weightage of written test and interview will be in the ratio 70:30.
Annual Performance Report: An Annual Performance Appraisal of the Young Professionals would be undertaken through an Annual Performance Report (APR).
Review: These terms and conditions may be reviewed as and when the circumstances so warrant with the approval of the Competent Authority.
Relaxation: Any relaxation in the above terms and conditions would require prior approval of Secretary (FPI).
The details viz terms & conditions, number of positions, qualification, experience etc are given in Annexure-I. The duly filled application in the prescribed proforma (Annexure-II) must be submitted to this Ministry by 18.08.2023 at the following address, by email and post:
Shri Vikram Kesharee Pradhan,

Deputy Secretary Ministry of Food Processing Industries

Panchsheel Bhawan, August Kranti Marg,

New Delhi – 110049 Email: vikram.p@mofpi.gov.in
🔊 Be Aware, We never charge any consultancy fee for jobs.

📲 Foodtech Network WhatsApp Jobs Group
🔗 WhatsApp Groups
🖥 Food Safety Training programs
🔗 https://bit.ly/3fbjKRz
📈 Food Entrepreneurs & Startups (Our services)
🔗 https://bit.ly/3JDyPIN