FSSAI - Food Safety Training & Certification
Basic Level Certification (Online/offline)
Street Food Vending.
Catering.
Manufacturing/Processing.
Storage & Transport.
Retail & Distribution.
Advance Level Certification (Only Offline)
Manufacturing/Processing
Catering.
Storage & Transport.
Retail & Distribution.
Special Level Certification (Only Offline)
Milk & Milk Products
Meat & Poultry
Fish & Sea Food
Packaged Water
Bakery (Level 1 & 2)
Edible Oil & Fat
Health Supplement.
Internal Auditor Training
Level - 3, Two days training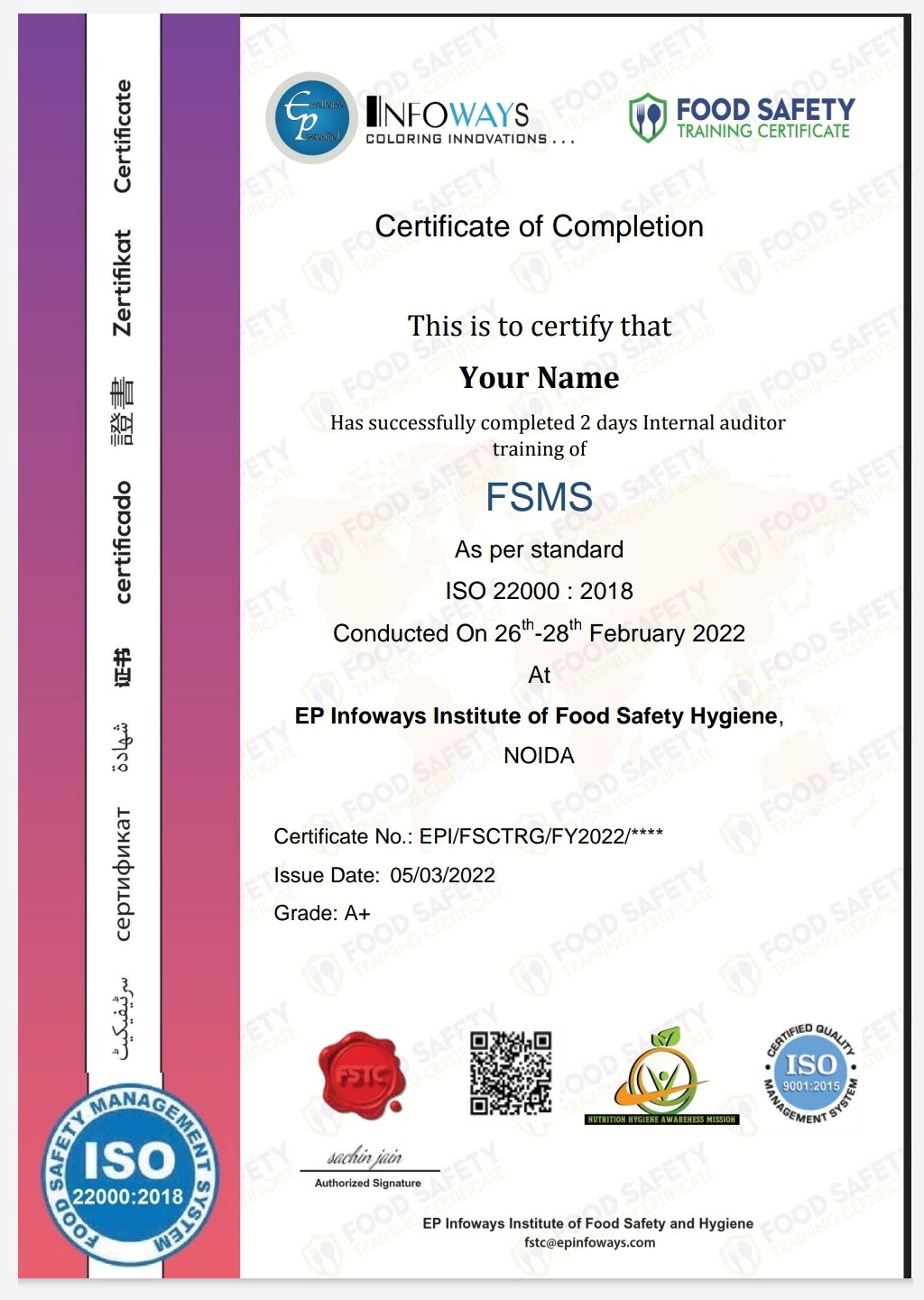 HACCP As per IS 15000:2018
FSMS As per ISO 22000:2018
FSSC v5.1 22000
BRC 9 Global Standard For food safety
Food Law and Regulation (Legal Metrology, food labelling, Advertising & claims regulation for food businesses as per FSSAI Standards)
Learning objectives:
Understand the application of Food Safety Management Systems, FSSC V5 or HACCP as the course you will take.
Key concepts associated with hazard analysis as per International Standard.
Able to understand the entire process of Internal Auditor Processes.
Develop the ability to plan and organize an internal audit.
Collect and Analyse Evidence, Exercising objectivity for various instances.
Know how to evaluate and report the results of an internal audit and prepare the
Management system – why and what?
rerequisite Program and Risk Management
ISO 22000, FSSC v5, HACCP Purpose and requirements as per the course.
Why, and what is an, Audit?
Plan an audit
Conduct an audit
Exercise
Audit Reporting and Follow-up
Personal action plan
Food Safety Training Programs Level 1
Level 1 Training program
Food Safety Management System ISO 22000
HACCP
FSSC 22000 v5.1
Food Safety Issue 8 in Accordance to BRC standard
Quality Management System ISO 9001
HACCP, FSMS, FSSCv5.1
Laboratory Management System ISO 17025:2017
5G Training Programs
Good Laboratory & Labelling Practices
Good Handling & Operating Practices
Good Manufacturing Practices
Good Production And Processing Practices
Good Documentation Practices
CQI & IRCA Lead Auditor training.
5 days training
Participants who score a minimum of 70% in the food safety auditor training in both the continuous assessment and written examination will be issued a certificate of achievement, while participants who are unable to achieve the minimum passing score will be issued a certificate of attendance.
CQI & IRCA accredited training program
Internship & Diploma Programs
Internship - 2 Months
Any 1 Project out of 5 projects available Title and Project Report will be prepared –
Topic 1 – The Technology of Fruits and vegetable processing with Regulatory Compliance
Topic 2 – The Technology of Milk and Milk Products processing with Regulatory Compliance
Topic 3 – The Technology of baking processing with Regulatory Compliance
Topic 4 – The Technology of beverage processing with Regulatory Compliance
Topic 5 – The Technology of Confectionery and Energy bar production with Regulatory Compliance
Completion of Internship you will have – Project Report with 7 certifications
Project Report Ready to be Submitted in College
60 days Industry Internship Certificate on EP Infoways Food Safety Consulting Services – Company Letter Head
60 Days Training Certificate from EP Infoways Institute of Food Safety and Hygiene
One Free FOSTAC Training :–
1 FOSTAC certificate as per the Choice ( Advance Manufacturing Level 2 / Milk and Milk Products Level 3 / Bakery Level 2 / Transport and Storage Level 2 )
Certificate of HACCP , FSMS ISO 22000 , FSSCv5.1 Level 1
Certification on Good Hygiene Practices Level 1
Certification on Quality Management System ISO 9001 Level 1
Certification on Laboratory Management System ISO 17025:2017 – Level 1
6 Months Diploma – Food Processing Technology Cycle with Internal Auditing and Regulatory Compliances
It will cover –
Technology of Food Processing Industry
Regulatory Compliance as per FSSAI ( 2 Certificates )
International Food Safety Standard HACCP, FSMS and FSSCv5.1
Laboratory , Labeling and Packaging Guidelines
Auditing and Supervisory Competency
Storage and Transportation Practices in Food Safety
Special Certificate as Hygiene Officer
Internal Auditor 
HACCP Level 3
Internal Auditor FSMS
Internal Auditor FSSC v5.1
& Other Topics same as per Internship
Legal Metrology & Labelling
Legal Metrology Packaged Commodities
Program Description
Legal Metrology Act-2009
LM (Packaged Commodities Rules), 2011
Consumer-based (Institutional, Industrial) legal metrology requirement
Specific commodities requirement as per Schedule II of LM.
Product name (Generic/ Specific)
Condition of writing manufacturing date & expiry date
Condition of writing sale price
Condition of putting information on stickers
Minimal height of numeral
How and where to declare information
Manner & condition to declare sale price
Manner & condition to declare Manufacturer, Marketer, Brand owner, Importer name & address
Manner & condition to declare net quantity & statement of units of weight, measures, or number.
Provision related to the wholesale dealer and retail dealer
Inspection of quantity and error in packages and action to be taken at the premises of manufacturer and packer
Establishment of a maximum permissible error on packages
Declaration to be made on every wholesale package
Restriction on sale of export packages in India
Exemption in respect of certain packages
Registration of manufacturer, Packers, and importer
The penalty of the contravention of Rules
Schedule I (Max permissible error)
Schedule II (Standard size)
Schedule III(Declaration of " When Packed")
Schedule IV( Product Specific Declaration of weight, measure or number),
Schedule V (Manner of sampling)
Schedule VI ( Determination of net quantity )
Schedule VII (Deferent forms)
FSS Labeling & Display Regulation & Advertising and Claims Regulations, 2018
Program Description
Labeling & Display Regulation 2020
General Requirement of Labelling & Display Regulation
The Name of Food
Nutritional Information
Declaration regarding Veg or Non-Veg
Declaration regarding Food Additives
Declaration of name and Complete address
FSSAI logo and License Number
Net Quantity, Retail Sale Price, and Consumer Care details
Lot/Code/Batch Identification
Date Marking
Labeling of Imported Foods
Country of Origin for Imported Food
Instruction of use
Declaration regarding Food Allergen
Food material sold in but which is not meant for human consumption.
Mandatory Declaration of Food Packet
Exemptions from certain labeling Requirement
Display of information in Food Service Establishment
Labelling requirement in Non-Retail Container
Labelling of Food Additives when it sold as such
Specific Requirement / Restriction on Manner of Labelling
Advertising and Claims Regulations, 2018
General principles of Advertising and Claims
Non-addition claims
Health claims
Claims related to dietary guidelines or healthy diets.
Conditional Claims.
Prohibited claims.-
Approval of claims.
Procedure for approval of claims
Redressal of non-compliance.
Procedure for redressal of non-compliance
SCHEDULE – I Nutrient Content Claim
SCHEDULE – II Synonyms which may be used for claims defined in these regulations
SCHEDULE – IIA List of Claims for Edible Vegetable Oils
SCHEDULE – III Reduction of disease risk claims
SCHEDULE – IV
Health Claims for Fortified Food Articles
SCHEDULE – V Use of certain words or phrases
MSME, Food Processing : Entrepreneurship Development Program
Labeling and Claims Regulations
International Placement, Internship in Food safety
Stipend is around 1200-2200 Euros (98K – 180k Rupee)or For Job 1500-3000 Euros