The Indian Institute of Technology (IIT) Roorkee researchers have developed a plant-based edible ink that can be used for fruits and vegetable marking and paper-based packaging.
The researchers include Prof Kirtiraj Gaikwad and his MTech student Lokam Hakim of the Department of Paper Technology at IIT Roorkee.
"The idea of making such an ink that is edible came after studying the harmful effects of stickers pasted on fruits using adhesive. We researched for around one and half years and succeeded in developing this ink based on a plant material called catechu," said Prof Gaikwad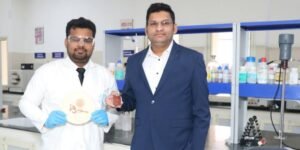 Prof Gaikwad added that catechu has properties of natural dye and in addition it has shown some medicinal and anti-bacterial properties as well.
"The ink can be applied directly on fruits for brand logo, on cakes in powder form and on paper packages for label printing. We have tested this ink and found that it can sustain for around 3 months on packaging," he said.
However, as this ink is edible, therefore, on contact with water, it will dissolve.
"Being water-soluble, this ink doesn't leave any residue and can be environment-friendly," said Prof Gaikwad, while adding that a patent has been filed for the same.
Further, he said that the next step shall be commercial production of the ink after getting the patent.
Meanwhile reacting to the news, Ashwin Bhadri, CEO, Equinox Labs, stated, "IIT Roorkee has taken a step in the right direction. The development of edible ink for packaging food products could prove immensely helpful in preventing food hazards.
Traditional ink used for printing labels could migrate into food products, thereby rendering them harmful for consumption. More research needs to be conducted in this area to ensure that it is a viable and effective alternative to traditional ink".
🔔👥 WhatsApp – Join our groups for regular updates (Jobs, News, Training etc) If you are already in our groups, please don't join. All Groups are same.

🔬👩‍🎓 Join Food safety Training Programs (Online/Offline)

🖥️ Level 1 training
🔗 https://bit.ly/3tRtUec

🖥️ Level 3 – Internal Auditor training
🔗 https://bit.ly/3RARhSG

🖥️ FSSAI FOSTAC training
🔗 https://bit.ly/3xAB74x

🖥️ Internship program
🔗 foodtechnetwork.in/7361/