S.R. Thorat Dairy is a prestigious name in the Maharashtra Dairy Industry having been in existence for the past 30 yrs. We have manufacturing expertise in Products such as Pouch Milk. UHT Milk, Ghee, Butter, Table Butter, Flavored Milk, Cheese, SN Amrakhand, Paneer, Butter Milk. Curd, Sweets Etc. MP. Shrikhand
A Promise made is a promise kept. When S.R.Thorat dairy was incepted 25 years ago, we made a promise to our consumers, "We shall provide you the best possible reach of fresh milk". Over the years, with our efforts and right technology, we have so far kept our promise to supply a clean, healthy and hygienic Milk and Milk based products. It pays when you take utmost care in caring for others.
We understand our responsibilities towards farmers, community, our consumers and for the environment. Yet, there is an immense opportunity to harness, to connect with everyone, to make everyone aware of health, hygiene and cleanliness. Our scalability and stability lies to keep up this Promise.
S R Thorat Milk Products, famously known as Thorat Dairy has been a symbol of purity in the market for over more than two decades.
The contentment of the consumers inspires us to strive for our commitment for high quality milk & milk products. We have strong foot hold in regional as well as national markets. We envision pan India presence in the years to come.
Currently, we are producing and marketing four varieties of milk namely Activ, Prime, silk & Tea-top , these are wholesome, Low fat, speciality milk & milk suitable for Tea-coffee respectively. To make it happen our insulated milk tankers collect milk from our chilling centers and Bulk Milk Cooling centers located in villages where our producer farmers bring fresh milk in the morning and evening The raw milk is subjected to strict quality checks at the centers like Adulterants, Antibiotics and various quality checks those are essential to assess the wholesome ness of milk.
This milk is transported to main Dairy Plant at Sangamner, where it is processed and hygienically packed and stored at refrigerated temperatures thereafter transported through the insulated vans to the cities. We ensure the freshness and wholesomeness of milk through its journey from farms to shelves of the retailers in the cities.
OUR LEGACY
Since our inception, our consumers have loved the milk and loved over the years. They have know S.R.Thorat milk with the green and white pack. The pack has connected with the consumer and they have regarded as the most faithful milk brand which they can trust. In 2019, we have taken the step to further evolve with new products separating it with their fat content. Now, we can serve our consumers better with these varied compositions. We are in a continuous process to maintain the trust which we have build our the years.
We require the following candidates with relevant experience.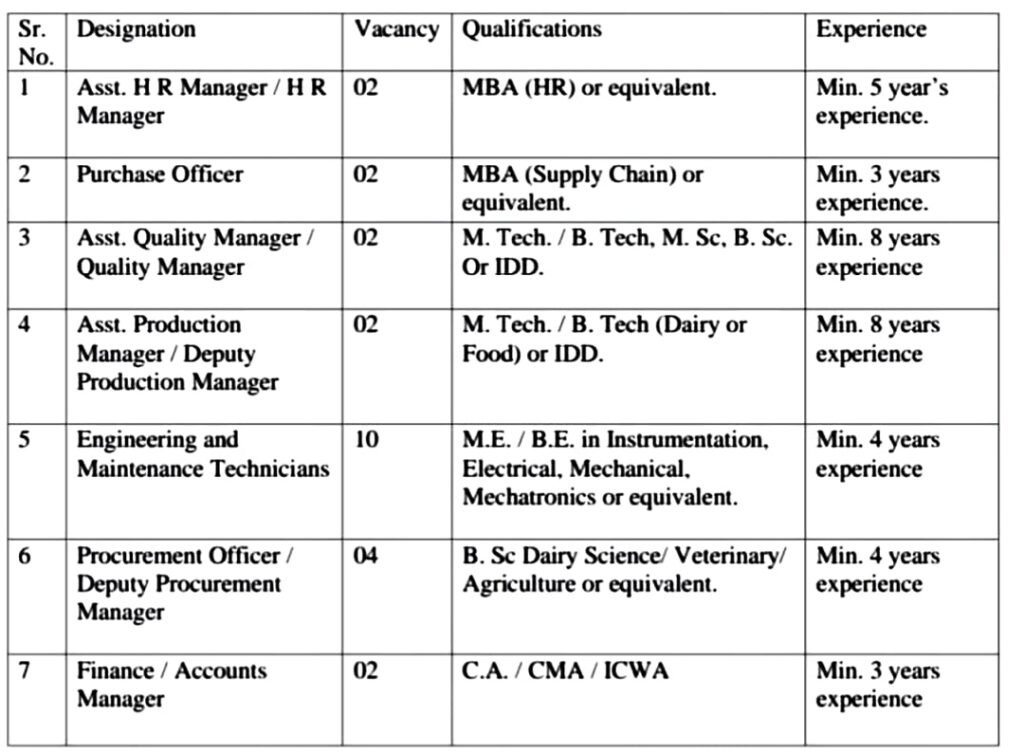 Interested Candidates can send their CV's to mailto:hr@srthoratmilk.com
🔊 Be Aware, We never charge any consultancy fee for jobs.

📲 Foodtech Network WhatsApp Jobs Group
🔗 WhatsApp Groups

🖥 Food Safety Training programs
🔗 https://bit.ly/3fbjKRz

📈 Food Entrepreneurs & Startups (Our services)
🔗 https://bit.ly/3JDyPIN