In a significant stride towards environmental sustainability and tackling the issue of plastic pollution, the Defence Food Research Laboratory (DFRL), based in Mysuru and part of the Defence Research and Development Organization (DRDO), has unveiled eco-friendly biodegradable water bottles.
These sustainable water bottles, crafted from poly lactic acid-based (PLA) material, not only address the pressing problem of plastic waste but also contribute to reducing the overall carbon footprint. What makes them even more commendable is their biodegradability, providing a promising solution to the ever-growing issue of plastic pollution.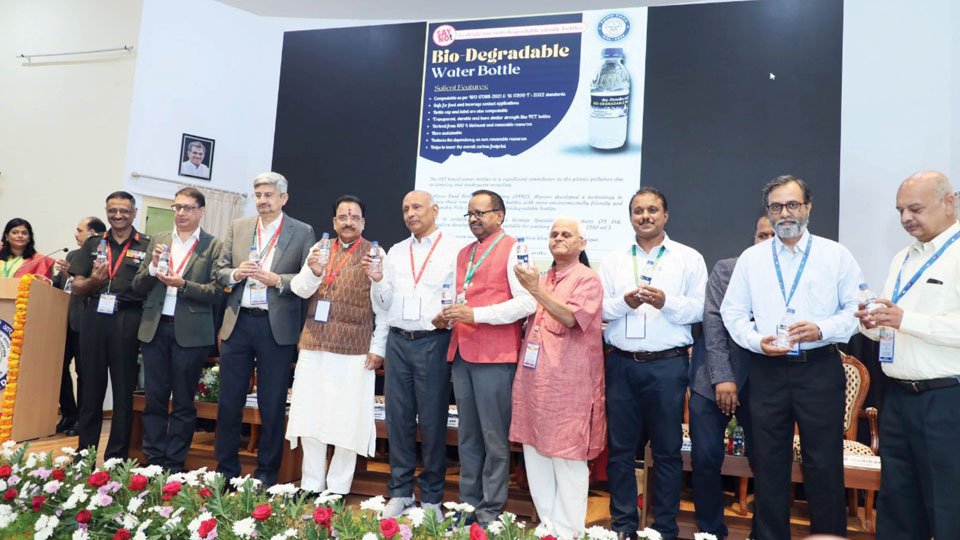 The launch of these eco-friendly water bottles took place during the National Conference on "Millets for Military Ration and Specific Nutritional Requirements," organized by DFRL at the SDM Institute for Management Development (SDM-IMD).
According to DFRL, these PLA water bottles comply with ISO 17088-2021 and IS 17899 T: 2022 Standards, ensuring their compostability. Moreover, they are considered safe for food and beverage contact applications, making them a reliable and sustainable choice.
Notably, it's not just the bottle itself that is eco-friendly; even the bottle cap and label are compostable, emphasizing a holistic approach to sustainability.
DFRL highlights that these transparent and durable water bottles boast similar strength to traditional PET bottles. What sets them apart is their origin—derived entirely from 100% bio-based and renewable sources. This innovation contributes to sustainability by reducing dependency on non-renewable resources.
In a collaborative effort with Konkan Speciality Polyproducts Private Limited in Mangaluru, DFRL has successfully developed these PLA bottles specifically designed for holding 250 ml of potable water. Their manufacturing process utilizes injection blow molding techniques, ensuring quality and consistency.
The introduction of these biodegradable water bottles by DFRL is a testament to the organization's commitment to environmentally responsible innovation. By offering a sustainable alternative to conventional plastic bottles, DFRL is contributing to the global effort to reduce plastic waste and minimize the environmental impact of disposable packaging.
As plastic pollution continues to be a pressing concern, initiatives like these play a pivotal role in mitigating its harmful effects. DFRL's eco-friendly water bottles not only align with environmental conservation goals but also set a positive example for the adoption of sustainable practices in various sectors, ultimately leading to a greener and more sustainable future.
👉 Join our WhatsApp channel for more jobs updates
🔊 Be Aware, We never charge any consultancy fee for jobs.

📲 Foodtech Network WhatsApp Jobs Group
🔗 WhatsApp Groups
🖥 Food Safety Training programs
🔗 https://bit.ly/3fbjKRz
📈 Food Entrepreneurs & Startups (Our services)
🔗 https://bit.ly/3JDyPIN