What is Nesternship?
According to the International Labor Organization, two out of every five young people worldwide are jobless or working in low-wage jobs. With the onset of a global pandemic in 2020, these numbers were on the rise and the uncertainties in the job market grew as well.
Nestlé started the Nesternship programme to engage the youth while providing exposure to the ways of working in the FMCG sector. We have sustained that promise through the years however in an ever evolving reality, we want to reimagine our commitment to upskilling the youth towards self-reliance, growth and employability.
Salient Features of the Programme
Duration: 10 Weeks
Application Deadline – 23rd August 2023
Modes: Online (primary) & Offline
You learn: Selected candidates work on projects with assigned mentors from the organization who are specialists in their domain.
You earn: A certificate of completion from Nestlé and an Amazon Voucher worth ₹10,000 on successful completion of the internship.
WHO ARE WE LOOKING FOR?
Youngsters who are curious to learn the ways of the largest food and beverage organization of the world.
Students pursuing bachelors or masters in any discipline.
Passionate youngsters with leadership experiences and an entrepreneurial mindset.
Excellent verbal and written communication skills are a must.
The ability to work independently and with a team.
Available to participate for 10 weeks part-time/full-time in a hybrid internship programme.
Q. How will the Nesternship Campaign work?
This campaign brings you to this year's much awaited 'Nesternship' 2023. Nesternship is an internship program launched by Nestle to provide internships to students across various profiles and make the youth of our country future-ready. These internships will be for 10 weeks at a hybrid capacity.
Q. What kind of internships are available?
These internships will be at a hybrid capacity in profiles like marketing, finance, supply chain, technical & production, legal, human resources, corporate affairs, sustainability and Nestlé business affairs.
Q. Who can apply?
Students pursuing bachelors and masters, from all across the country are eligible to apply for the internship profile of their choice.
Q. Will there be stipend & certificate for the Internship
Yes, these internships come with a guaranteed stipend of INR 10,000 (in form of Amazon vouchers) and an internship experience certificate from Nestle.
Q. What is the duration of internship
These internships will start in the months of April – May and their duration will be 10 weeks in total.
Q. I have my exams coming up, Can i still apply?
Yes, you can still apply to the exclusive internships as they are at a hybrid capacity and you feel like you can manage the work
Q. Can i apply more then one internship?
Yes, you can apply for as many internships as you like, provided you meet the eligibility criteria.
Q. Do i need to pay for registration?
No, it's absolutely free
How to Apply?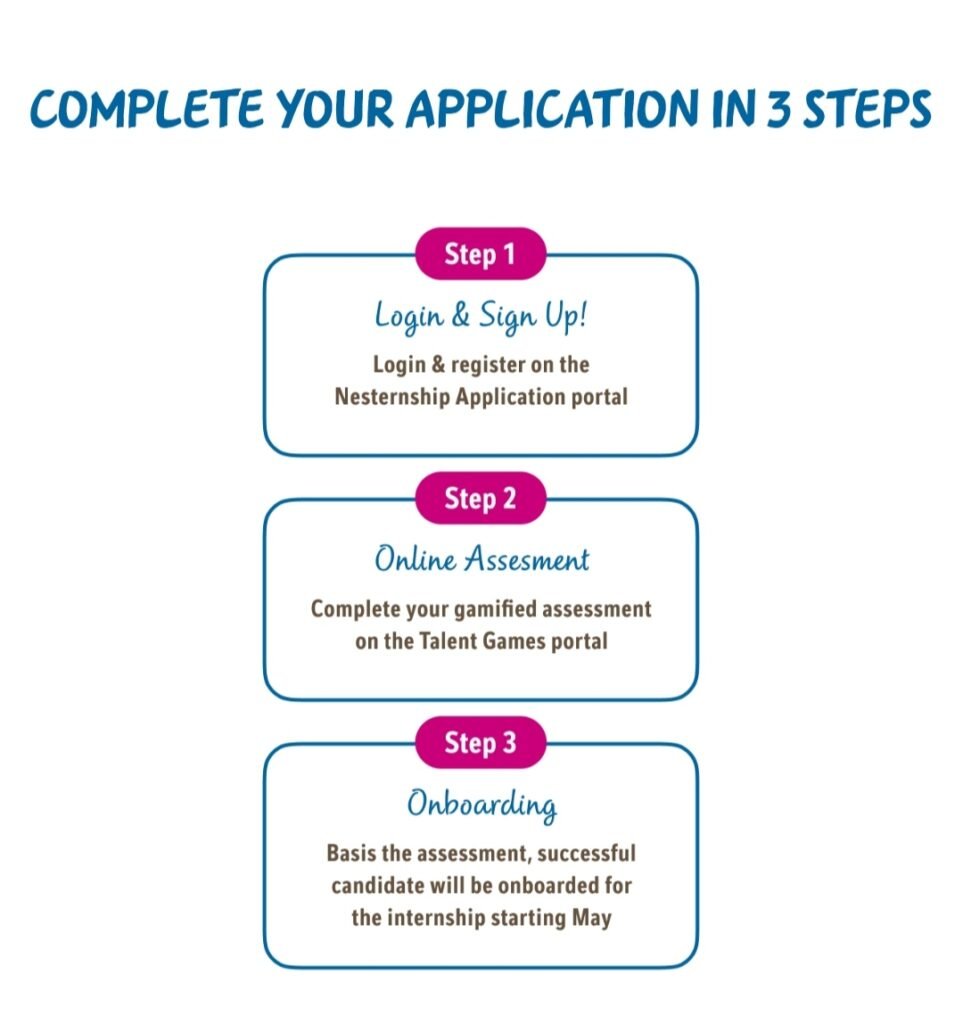 If you have a question, Please write to us at contest@internshala.com and we would be happy to help.
🔊 Be Aware, We never charge any consultancy fee for jobs.

📲 Foodtech Network WhatsApp Jobs Group
🔗 WhatsApp Groups
🖥 Food Safety Training programs
🔗 https://bit.ly/3fbjKRz
📈 Food Entrepreneurs & Startups (Our services)
🔗 https://bit.ly/3JDyPIN